Detailed CD Listing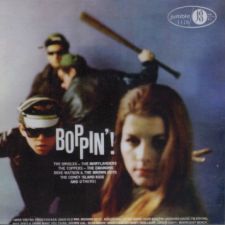 This listing reflects a current inventoried CD title. Every song on every CD we sell is the original recorded version you remember - guaranteed quality and satisfaction.
---

Jumble CD-1118
US$13.95 or CDN$16.95
Boppin'

1. Baby Let Me Bang Your Box – Toppers
2. I Miss You So – Orioles
3. Red Light Green Light – Coney Island Kids
4. Brown Gal – Deke Watson & Brown Dots
5. Blue Moon – Emanons
6. Good Old – Marylanders
7. Moonlight Beach – Coney Island Kids
8. Mission Of St Augustine – Orioles
9. You're Laughing Cause Im Crying – Toppers
10. Wish I Had My Baby – Emanons
11. Why Does A Drink Make You Think – Deke Watson & Brown Dots
12. Fried Chicken – Marylanders
13. My Heart – Teardrops
14. Blues At Sunrise – Sultans
15. I'm A Sentimental Fool – Marylanders
16. You Captured My Heart – Sultans
17. Oh Baby – Teardrops
18. I'm So All Alone – Marylanders
19. Itty Bitty Mama – Emanons
20. A Fool – Teardrops
21. Don't Be Angry – Sultans
22. How I Feel Without You – Marylanders
23. Oh Stop It – Teardrops
24. We Want A Rock And Roll President – Coney Island Kids
25. Make Me Thrill Again – Marylanders
26. Lemon Squeezing Daddy – Sultans
27. Stars Are Out Tonight – Teardrops
28. Please Love Me – Marylanders
29. Secret Love – Orioles
30. The Prayer – Teardrops
---
Use Your Credit Card



and Order this CD Right Now!

| | |
| --- | --- |
| | Call 1-800-494-6129 to order this CD, or |
| | Click to order this CD using our secure server |
More ordering and shipping options
---