Detailed CD Listing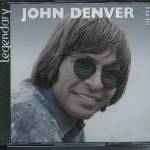 This listing reflects a current inventoried CD title. Every song on every CD we sell is the original recorded version you remember - guaranteed quality and satisfaction.
---

BMG CD- 5963 John Denver - Legendary - 3 CD Box Set of Greatest Hits
Due to the size and weight of the CD packaging, this CD counts as 3 CDs shipped.

This CD is sold out and discontinued. We cannot get more inventory.
Please do not order.

Disc 1
1. Leaving On A Jet Plane
2. Take Me Home Country Roads
3. Rocky Mountain High
4. Back Home Again
5. Poems, Prayers And Promises
6. Sweet Surrender
7. Annie's Song
8. Rhyme And Reason
9. I'm Sorry
10. Calypso
11. Farewell Andromeda
12. How Can I Leave You Again
13. For You
14. Goodbye Again
15. Falling Out Of Love
16. Love Is The Master
17. Seasons Of The Heart

Disc 2
1. Thank God I'm A Country Boy
2. Some Days Are Diamonds
3. Follow Me
4. Fly Away
5. Shanghai Breezes
6. Wild Montana Skies
7. Love Again
8. Perhaps Love
9. Is It Love
10. Friends With You
11. The Flower That Shattered The Stone
12. Starwood In Aspen
13. Don't Close Your Eyes Tonight
14. Sing Australia
15. Like A Sad Song
16. My Sweet Lady

Disc 3
1. Flying For Me
2. I Guess He'd Rather Be In Colorado
3. It Amazes Me
4. Rocky Mountain Suite
5. Grandma's Feather Bed
6. I Want To Live
7. Come And Let Me Look In Your Eyes
8. Sunshine On My Shoulders
9. Looking For Space
10. The Eagle And The Hawk
11. Whispering Jesse
12. Two Different Directions
13. Dreamland Express
14. It's About Time
15. Autograph
16. Windsong
17. This Old Guitar
---
Use Your Credit Card and Order this CD Right Now!

| | |
| --- | --- |
| | Call 1-800-494-6129 to order this CD, or |
| | Click to order this CD using our secure server |
More ordering and shipping options
---