45 RPM Alphabetical Artist Catalog - L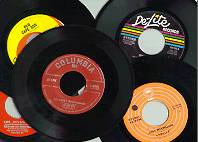 All listed records are brand new and the original recordings you remember.
All listings were updated in March 2020 to indicate our in-stock inventory.
(PS) All copies of this 45 are sold with the original picture sleeve.


Record pricing: All 45s on this page
Without any price notation are US$6.95 /CAN$7.95 each.
With $C price notation are US$8.00 / CAN$9.00 each
For other price notations (e.g., $D) see the bottom of this page.
====================================


LaBelle / Patti LaBelle (& the Bluebelles)


Danny Boy
Down The Aisle / C'est La Vie
I Sold My Heart To The Junkman
If Only You Knew
If You Asked Me To
Itty Bitty Twist
Lady Marmalade $C
New Attitude $C
Oh People (PS)
On My Own (with Michael McDonald) $C
Right Kind of Lover
Stir It Up (PS)
What Can I Do For You
You'll Never Walk Alone $Z
La Bouche
Be My Lover $Z

Lady Flash
Street Singing $D
Sweet Dreams $Z


Lafayettes
Life's Too Short $C
Francis Lai
Theme From "Love Story" $D
Laid Back
White Horse

Denny Laine
Also see the "Moody" Blues
Moondreams $C




Frankie Laine


Cry Of The Wild Goose / Mule Train
Don't Make My Baby Blue $C
I'll Take Care Of Your Cares / Making Memories
Jezebel / Your Cheatin' Heart $D
Making Memories
Moonlight Gambler
Mule Train
Sittin' In the Sun (Counting My Money) (Columbia) $C
That's My Desire / By the River Sainte Marie
To Each His Own / You Gave Me A Mountain
You Wanted Someone to Play With (ABC) $C

EP - Includes Jezebel, Jalousie, High Noon and I Believe (PS) $D

Greg Lake
Also see "Emerson" Lake & Palmer
C'est La Vie $Z
Let Me Love You Once
George LaMond
Baby I Believe in You
Lamplighters
Ride Jockey Ride

Major Lance
Monkey Time / Um Um Um Um Um $C


Robbie Lane & the Disciples
They backed up Ronnie Hawkins after the original Hawks went independent as "The Band." Also see Ronnie "Hawkins" and Domenic "Troiano."
Ain't Love a Funny Thing $Z
Fanny Mae $Z
Suzi Lane
Harmony

Tom Lane
Doughnut Song (Adult lyrics)
Little Green Lady (Adult lyrics)
k.d. lang (Kathryn Dawn Lang)
From Edmonton Canada
Also see Roy "Orbison"
If I Were You
Just Keep Me Moving
Miss Chatelaine
Three Days


Mario Lanza


Mario was addicted to overeating and alcohol. He was 39 when he died in 1959
Ava Maria / The Lord's Prayer
Be My Love / O Sole Mio
Drink Drink Drink $C
Silent Night / First Noel

Interesting collectible items
Because / For You Alone (Red vinyl 1950 original) (RCA) $D
Cielo E Mar (One of the first 45s made in 1949) (RCA 49-3202) (Red vinyl) $D
Loveliest Night of the Year (Red vinyl 1950 original) (RCA) $D
Song the Angels Sing / Because You're Mine (Red vinyl) (RCA) $D


Larks
Also see Don "Julian" & Meadowlarks
Jerk
Larsen Feiten Band
Who'll Be the Fool Tonight $C
Nicolette Larson
Let Me Go Love (PS)
Lotta Love $C
Rhumba Girl $C


Denise Lasalle
Down Home Blues (Adult lyrics)
My Toot Toot
Now Run and Tell That
Trapped by a Thing Called Love $C
James Last
From Germany it is estimated that James sold more than 200 million albums world-wide in his lifetime. He was 86 when he died in 2015
Seduction $C
LA Style
James Brown is Dead $Z
Latimore
Let's Straighten It Out
Somethin' 'Bout 'Cha $D
Stacy Lattisaw
Let Me Be Your Angel / Dynamite $D
Love On A Two Way Street
Miracles



Cyndi Lauper (Cynthia Ann Stephanie Lauper)
In 2013 Cyndi won the best original score Tony Award for composing the Broadway musical 'Kinky Boots'
All Through the Night (PS) $C
Boy Blue
Change Of Heart (PS)
Girls Just Want to Have Fun / Time After Time $C
Goonies R Good Enough (PS)
Hole In My Heart (All the Way to China) (PS) $C
I Drove All Night
Money Changes Everything (PS)
She Bop $C
That's What I Think
Time After Time $C
True Colors
What's Going On (PS)
What's Going On (Picture Disc)
When You Were Mine (PS)
Who Let In the Rain / Cold

Rod Lauren
I Dreamed $H


Linda Laurie

Lavern & Shirley (Penny Marshall & Cindy Williams) Making Our Dreams Come True $Z
Avril Lavigne
Complicated $Z
Joey Lawrence
Star of "Give Me a Break" and "Blossom"
Nothin' My Love Can't Fix
Stay Forever



Steve Lawrence


Footsteps / Pretty Blue Eyes $C
Geisha Girl (Coral 61925)$F
Go Away Little Girl / More $C
Pretty Blue Eyes $C
Portrait Of My Love
Two of Us (with E Gorme)
Walking Proud $D


Vicki Lawrence
The Night the Lights Went Out in Georgia $C
Julian Leach & Mellows
Smoke From Your Cigarette
Leaders
Stormy Weather


Leaves
Hey Joe $Z
Lenny Leblanc / Leblanc & Carr
Falling $D
Hound Dog Man (Play It Again) $D
Something About You $D

Led Zeppelin
Often voted most influential band of the 1970s. Sold 200 million LPs by 2015. Also see Robert "Plant", the "Yardbirds" and the "Honey" Drippers
Black Country Woman / Trampled Under Foot $D
Dyer Maker / The Crunge $D
Immigrant Song / Hey Hey What Can I Do $Z
Fool In The Rain $Z




Brenda Lee


All Alone Am I $C
As Usual / Too Many Rivers
Break It To Me Gently $Z
Dum Dum $C
Emotions $Z
Fool Number 1 $C
Grass is Greener (Decca) $D
I'm Sorry $C
I Want To Be Wanted $C
I Wonder $D
Is it True (Decca) $C
Losing You $C
My Whole World is Falling Down (Decca) $C
Ride Ride Ride (Decca) $D
Rocking Around the Christmas Tree $C
Save Me For a Rainy Day (Decca)
Sweet Nothings $C
That's All You Gotta to Do $Z
Think / The Waiting Game (Decca)
Think / The Waiting Game (Decca PS) $C
Truly Truly True (Decca PS) $F
Too Many Rivers
You Don't Need Me Anymore (Decca)
Clayton Lee & Pirates
My Wife Can't Cook


Curtis Lee (& the Halos)
Pretty Little Angel Eyes $Z
Under the Moon of Love $Z



Dickie Lee


Girl From Peyton Place / Laurie
I Saw Linda Yesterday
Laurie
9,999,999 Tears $C
Patches


Dinah Lee (Diane Marie Jacobs)

Garry Lee & Showdown
Rodeo Cowboy / Ethyl Pump (Adult lyrics)
Rodeo Song (Adult lyrics) $C


Jackie Lee
Duck


Johnny Lee
Bet Your Heart On Me
Fool For Love
Looking For Love
One In a Million
One More Shot / Yellow Rose
Red Sails In the Sunset
Laura Lee
Dirty Man
If You Can't Beat Me Rockin'
Since I Fell For You
Women's Love Rights


Leapy Lee
Little Arrows / Time Will Tell
Little Arrows / (John Rowles) (Small centre hole)
Little Arrows / (Mac & Katie Kissoon) $C

London Lee
Junkyard in the Sky (Mr G) $F

Michele Lee
Star of TV series "Knotts Landing"
L David Sloane (Columbia) $D


Peggy Lee
Fever / Alright Okay You Win $Z
Is That All There Is / I'm a Woman $C
Is That All There Is / Spinning Wheel $C
Raymond Lefevre
Day The Rains Came $C
Soul Coaxing (Ame Caline)


Left Banke


Ivy Ivy (Smash) $F
Pretty Ballerina / Walk Away Renée
(Click for larger photo)
EP Features Walk Away Renee by the Left Banke plus 3 more songs by the Angels, Millie Small and Joe Dowell (7", 33 RPM, small centre hole, PS) $F
(New reduced price)
Legendary Stardust Cowboy
Paralized was voted the worst recording ever made - several times !
Paralized / Who's That Knocking at My Door $C


Legends
Legend Of Love
Michel Legrand
Brian's Song (from the film "Brian's Song")
Paul Lekakis
Boom Boom (Let's Go Back to My Room)

Lemon Pipers


Green Tambourine $Z
Jelly Jungle (of Orange Marmalade) $D
Rice Is Nice
Wine & Violet

Save Time
Use inventory numbers instead of writing song title
And it insures you get the right record too !




John Lennon
John was 40 when he was shot four times (in the back) by Mark Chapman in the lobby of John's New York City apartment in 1980. Mark Chapman is still in prison in 2016
(Preceded by our inventory number)
22 Cold Turkey (Apple) $D
19 Give Peace a Chance (Capitol) $D
20 Give Peace a Chance (Apple) $F
21 Give Peace a Chance (Apple) (PS) $H
01 Happy Christmas (Apple label originals, green plastic ) $J
00 Happy Christmas (Capitol label, green plastic) $F
15
23
37 I'm Stepping Out (PS) $D
06 Just Like Starting Over (Picture sleeve originals) $C
35 Love $D
05 Mind Games (PS) (Apple label originals) $F
19 Nobody Told Me $C
18 Nobody Told Me (PS) $F
25 Number 9 Dream
03 Power to the People (Apple label originals) $D
09 Watching The Wheels
11 Whatever Gets You Thru The Night $D
07 Woman (PS) $D
13


Julian Lennon
Son of John Lennon and his first wife Cynthia
Bee Bop (PS) (Small centre hole)
Jessee (PS)
Say You're Wrong (PS)
Stick Around (PS)
Too Late For Goodbyes
Valotte (PS)
Want Your Baby (PS)
You're the One (PS)
Annie Lennox
Also see the "Eurythmics"
No More "I Love You's" $Z
Put A Little Love In Your Heart (with Al Green)


Le Roux
Nobody Said It Was Easy $C


James Leroy
James committed suicide at an Ottawa hotel in 1979. He was 32
Touch of Magic $Z
You Look Good in Denim $Z


Ketty Lester
But Not For Me $C
Love Letters $C



Lettermen
Chanson D'Amour (Capitol) $C
Come Back Silly Girl / Put Your Head on My Shoulder $C
Going Out of My Head / Hurt So Bad $C
Hurt So Bad $C
Love
Love is a Hurting Thing / Feelings $C
Sherry Don't Go $C
Somewhere My Love $Z
Theme from "A Summer Place" / Traces-Memories (Medley) $C
Turn Around Look at Me / How is Julie $Z
Way You Look Tonight $D
Letters to Cleo
Here and Now

Level 42
Heaven In My Hands (PS)
Hot Water (PS)
Lessons In Love (PS)
Running In The Family
Something About You
Levert / Gerald Levert
ABC-123
Casanova
Good Old Days


Barbara Lewis
Baby I'm Yours
Hello Stranger $Z
I Remember The Feeling
Make Me Your Baby / Make Me Belong To You


Bobby Lewis
I Doubt It (UA) $D
One Track Mind
Tossin' And Turnin'
Two of the Usual (UA) $D
Donna Lewis
At the Beginning (with Richard Marx) $Z
I Love You Always Forever $Z



Gary Lewis & the Playboys
Gary Lewis said about his dad "Jerry Lewis was a mean and evil person. He was never loving." Also see Jerry Lewis (below)


Count Me In / You Don't Have to Paint Me A Picture
Everybody Loves A Clown $C
Girls in Love (Liberty) $C
Green Grass / Sure Gonna Miss Her
I Saw Elvis Presley Last Night (Small hole 45)
Jill (Liberty) $C
Loser (With a Broken Heart) (PS) $D
My Heart's Symphony $Z
Paint Me A Picture (PS) $C
Save Your Heart For Me
Sealed With a Kiss (Liberty) $Z
She's Just My Style $C
Sure Gonna Miss Her
This Diamond Ring $D
This Diamond Ring / I Saw Elvis Presley Last Night (Small hole 45)
Where Will the Words Come From $Z
(You Don't Have to) Paint Me A Picture (PS) $C




Huey Lewis & the News
Do You Believe In Love $Z
Doing It All For My Baby (PS)
Give Me the Keys (and I'll Drive You Crazy)
Heart And Soul
Heart Of Rock And Roll
Hip To Be Square
Hope You Love Me Like You Say You Do (PS)
I Know What I Like (PS)
I Want A New Drug
If This Is It
Jacob's Ladder (PS) $C
Perfect World (PS)
Power Of Love $Z
She's Some Kind of Wonderful
Small World (PS)
Some of My Lies Are True
Stuck With You
Walking A Thin Line


Jerry Lewis
Jerry was 91 when he died of heart failure in 2017. He hated his first five children and intentially left them out of his will. Also see Gary Lewis (above)
My Mammy / With These Hands (Decca) $C
Rock-A-Bye Your Baby With a Dixie Melody (Decca) $D

Jerry Lee Lewis


(Preceded by our inventory number)
91 Break Up $Z
93 Breathless
25 Come As You Were
84 Crazy Arms $C
95 Down The Line
14 End of the Road / Crazy Arms $C
28 Fools Like Me $D
85 Good Golly Miss Molly $C
90 Great Balls of Fire / High School Confidential $Z
89 High School Confidential $Z
28
65
69 I Can't Seem to Say Goodbye
15 I'll Find It Where I Can
95 In the Mood
68 Invitation To Your Party
94 It'll Be Me / You Win Again $C
27 Let's Talk About Us (Smash)
87 Lewis Boogie
17 Me and Jesus
15 Middle Age Crazy
19 One Has My Name (the Other Has My Heart)
03 One Minute Past Eternity / Frankie & Johnny
86 Return Of Jerry Lee
41 Save The Last Dance For Me
69 Waiting For a Train
01
91 Whole Lotta Shakin' Going On / It'll Be Me $F
23 Would You Take Another Chance On Me
94 You Win Again $C

Meade Lux Lewis
Honky Tonk Train Blues / Boogie Woogie Jump $C


Ramsey Lewis
Hang On Sloopy $Z
Hard Day's Night $C
High Heeled Sneakers
Hot Dawgit (with Earth Wind and Fire)
In Crowd $Z
One, Two, Three $C
Up Tight $C
Wade in the Water $C

Smiley Lewis
Down Yonder We Go Ballin'
I Hear You Knockin'
Lewis and Clarke Expedition
I Feel Good (I Feel Bad) (RCA) $Z

Gordon Lightfoot
Baby Step Back
Carefree Highway $C
Circle Is Small
Daylight Katy
Dreamland
Go Go Round (UA) $Z
If You Could Read My Mind $C
Just Like Tom Thumb's Blues / Spin Spin
Me And Bobby McGee $C
Race Among The Ruins
Rainy Day People $D
Softly (UA) $D
Spin Spin
Summer Side of Life $C
Sundown $C
Talking In Your Sleep $D.
(Just Like) Tom Thumb's Blues
Way I Feel (UA)
Wreck of the Edmund Fitzgerald $Z


Lighthouse
Eight Miles High
Hats Off To The Stranger
I Just Want to be Your Friend $Z
One Fine Morning
Pretty Lady $C
Sunny Days

Edison Lighthouse
Also see Tony "Burrows"
It's Gonna Be a Lonely Summer / Love Grows (Where My Rosemary Goes) (Small centre hole)
Love Grows (Where My Rosemary Goes) $C
Lil' Kim (Kimberly Jones)
No Time (with Sean "Puff Daddy" Combs) $Z


Limahl
Also see "Kajagoogoo"
Never Ending Story (PS)
Only For Love (PS)


Limelighters
Disbanded in 1965. Also see Glen "Yarbrough"
A Dollar Down $D


Bob Lind
Elusive Butterfly
Remember the Rain / Truly Julie's Blues $D


Kathy Linden


Goodbye Jimmy Goodbye $Z
Lindisfarne
Run For Home $Z


Mark Lindsay
Also see Paul "Revere" and the Raiders
And the Grass Won't Pay No Mind $C
Arizona / Miss America
First Hymn From Grand Terrace $Z
Linear
Sending All My Love $C


Art Linkletter
We Love You Call Collect


Lipps
Funky Town $C
Rock It
Liquid Gold
My Baby's Baby $C


Lisa Lisa (& Cult Jam)
All Cried Out
Head To Toe (PS)
I Wonder If I Take You Home
If I Take You Home Tonight
Let the Beat Hit 'Em
Little Jackie Wants To Be a Star (PS)
Lost In Emotion
Lisle
Shelly Made Me Smile $C

"Big" Tiny Little
The Gang Song / Doodle Doo Doo


Russ Little & Craig Russell
All Alone (from film "Too Outrageous") (PS)



Little Anthony & Imperials


Diary / So Much
Goin' Out of My Head / Take Me Back $C
Hurt So Bad / I'm on the Outside (Looking In) $Z
I'm Alright / Shimmy Shimmy Ko Ko Bop
I'm Falling In Love With You (Avco) $C
I'm Still In Love With You / Shimmy Shimmy Ko Ko Bop
My Empty Room / Travelling Stranger
So Near And Yet So Far / Travelling Stranger
Take Me Back $C
Tears on My Pillow / Prayer and a Jukebox $F

Little Caesar & Consuls
My Girl Sloopy $Z
Something's Funny, Something's Wrong / Troubles and Trials (Columbia) $D

Little Caesar & Romans
Those Oldies But Goodies (Remind Me of You) $C


Little Dippers
Forever $C


Little Eva (Eva Narcissus Boyd)
Little Eva was Carole King's babysitter


Keep Your Hands Off My Baby
Let's Turkey Trot
Locomotion $Z
Old Smokie Locomotion (Dimension) $D
Swinging On a Star (with Big Dee Irwin)
Trouble With Boys (Dimension) $D


Little Joe & Thrillers
Peanuts


Little Mack (Simmons)


I Need Love $Z
Little Milton
Lonesome Christmas $C
We're Gonna Make It



Little Richard


(Preceded by our inventory number)
28 All Around the World (PS) $C
18 All Night Long $C
19 Baby Face $Z
11 Bama Lama Bama Loo $C
27 Girl Can't Help It, The $C
08 Good Golly Miss Molly $C
15 Heebie Jeebies $Z
07 Hey Hey Hey Hey $C
23 Hole In the Wall (Atlantic 2181) $D
31 Holy Mackeral (PS) (Modern) $D
03 I'm Just a Lonely Guy $C
06 Jenny Jenny $C
13 Kansas City-Hey Hey Hey Hey $C
12 Keep A Knockin' $C
21 Long Tall Sally $Z
09 Lucille $Z
05 Miss Ann $C
01 Oooh My Soul $C
17 Reddy Teddy $C
18 Rip It Up $C
10 Send Me Some Lovin' $Z
25 Shake A Hand
14 She's Got It $Z
20 Slippin' and Slidin' $Z
01 True Fine Mama $C
04 Tutti Fruitti $D



Little River Band
Happy Anniversary $C
Help Is On The Way
I'll Always Call Your Name
It's A Long Way There
Lady $Z
Lonesome Loser $Z
Man On Your Mind
Night Owls $C
Other Guy
Reminiscing
Take It Easy On Me $C
We Too
You're Driving Me Out of My Mind $C


Little Sister
Somebody's Watching You
You're the One $C
Little Willie John
See Little Willie "John"
Live It Up Band
Live It Up
Liverpool
Dolly $C


Living Colour
Cult Of Personality
Open Letter (to a Landlord)
Livin In A Box
Livin In A Box
So The Story Goes

LL Cool J (James Todd Smith)
Doin' It $Z
Go Cut Creator Go $Z
Going Back to Cali (PS) $C
Hey Lover $Z
I Need Love
I'm Bad
I'm That Type of Guy
Mama Said Knock You Out $Z
To the Break of Dawn (from the film "House Party") $Z
You'll Rock $Z


Ian Lloyd
Slip Away
Straight From the Heart



Lobo


Caribbean Disco Show $C
Don't Expect Me To Be Your Friend
Don't Tell Me Goodnight
How Can I Tell Her $C
I'd Love You To Want Me / Simple Man
It Sure Took Her A Long Long Time
Me, You And A Dog Named Boo $C
Rings
She Didn't Do Magic
Standing At the End of the Line
There Ain't No Way
Where Were You When I Was Falling In Love

Hank Locklin
Geisha Girl / Let Me be the One $C
Send Me the Pillow You Dream On / It's a Little More Like Heaven $C
Lisa Loeb
Do You Sleep


Dave Loggins
Please Come to Boston




Kenny Loggins
(Preceded by our inventory number)
14 Celebrate Me Home $C
39 Conviction of the Heart $C
05 Danger Zone (from film "Top Gun") (PS)
07 Don't Fight It (with Steve Perry) (PS) $C
01 Easy Driver
23 Footloose $C
09 Forever (PS)
11 Heart To Heart
13 Here There and Everywhere
15 I Believe in Love $C
17 I'm Alright (from film "Caddyshack") $Z
19 I'm Free (Heaven Helps The Man) (PS)
21 Keep The Fire
25 Meet Me Half Way
27 Nobody's Fool (from film "Caddyshack II") (PS)
29 Playing With the Boys (from film "Top Gun") (PS)
31 Tell Her
33 This is It $C
35 Vox Humana (PS)
37 Welcome To Heartlight
03 Whenever I Call You "Friend"


Loggins & Messina (Kenny Loggins & Jim Messina)
Changes
Growin'
Lover's Question
My Music / Thinking Of You
Watching the River Run
Your Mama Don't Dance / Peace Of Mind $C


Lolita
Sailor

Jackie Lomax
How The Web Was Woven (Apple 1819 original) $D
How The Web Was Woven (Apple 1819 original) (PS) $F
Sour Milk Sea (Apple) $D


Guy Lombardo
Always / Easter Parade
Auld Lang Syne / Hot Time in the Old Town Tonight
Blue Skirt Waltz
Charmaine / Getting to Know You
Harbor Lights / Petite Waltz $Z
MacNamara's Band
Third Man Theme / Cafe Mozart Waltz $C
Jack London & Sparrows
If You Don't Want My Love $D


Julie London


Cry Me A River
Days of Wine & Roses / King of the Road


Laurie London
He's Got the Whole World in His Hands $D


Londonbeat


I've Been Thinking About You / (M) (Coloured vinyl) $C
There's a Beat Going On (PS)
London Symphony
(Original theme from the film) "Star Wars" $F
Lone Justice
Sweet Sweet Baby (I'm Falling) (PS) $C
Johnny Long
In a Shanty in Old Shanty Town / Blue Skys $C


Shorty Long
Function at the Junction / Here Comes The Judge


Claudine Longet
Love is Blue / Look of Love $Z


Baron Longfellow
Also see Andy "Kim"
Amour $H
Go It Slow $F
Hold Me (PS) $D
In the Night Machine (PS) $D
Sugar Sugar $F


Looking Glass
BrandY $C
Golden Rainbow
Denise Lopez
Saying Sorry Don't Make it Right $C



Jennifer Lopez
If You Had My Love
Love Don't Cost a Thing

Trini Lopez


Gonna Get Along Without You Now
If I Had a Hammer / Lemon Tree $Z


A'Me Loraine
Whole Wide World (from the film "True Love") (PS)
Jeff Lorber & Karyn White
Facts Of Love (PS)


Lords of London
Cornflakes & Ice Cream $Z
Trey Lorenz
Just to be Close to You
Photograph of Mary
Someone to Hold


Gloria Loring And Carl Anderson
Friends And Lovers (from "Days of Our Lives") (PS)

Los Bravos
Black Is Black
Bring A Little Loving
Los Del Rio
Macarena $Z

Los Indios Tabajaras
Always In My Heart
Maria Elena
Los Lobos
Come On Let's Go
La Bamba
One Time One Night
Lost Boyz
Renée $Z

John D. Loudermilk
Angela Jones $C
Calling Dr Casey $Z
Language Of Love
Run on Home Baby Brother $C
Thou Shalt Not Steal (RCA) $F
Then You Can Tell Me Goodbye
Louie Louie
Sittin' In the Lap of Luxury
Charlie Louvin (Charlie Elzer Loudermilk)
See the Big Man Cry / I Just Don't Understand

Louvin Brothers (Lonnie Loudermilk & Charlie Elzer Loudermilk)
The Great Atomic Power (Capitol) $C


Darlene Love


Today I Met the Boy I'm Gonna Marry / Strange Kind of Love $F
Wait 'Til My Bobby Gets Home / Stumble & Fall $H
Love and Kisses
Thank God It's Friday $D
Love and Rockets
Ball of Confusion (PS) $Z
So Alive (PS)


Love Generation
Groovy Summertime $C
Montage from How Sweet It Is (I Knew that You Knew) $C


Lovelites


How Can I Tell My Mom and Dad



Loverboy
Also see Mike "Reno"
Dangerous
Heaven In Your Eyes (from film "Top Gun") (PS)
Hot Girls In Love $C
Jump / Take Me To The Top
Kid Is Hot Tonight
Lady of the '80s
Lead a Double Life (PS)
Lovin' Every Minute Of It
Lucky Ones
Notorious (PS)
Queen Of The Broken Hearts
This Could Be The Night (PS)
Turn Me Loose $D
When It's Over
Working For The Weekend
Lovers
It's Too Late $D
Love Unlimited (Orchestra)
Also see Barry "White"
I Belong to You $C
It May Be Winter Outside
Love's Theme / Satin Soul
Under the Influence of Love $C
Walking In The Rain With the One I Love

Lovin' Spoonful


Darling Be Home Soon $Z
Did You Ever Have To Make Up Your Mind $Z
Do You Believe in Magic $C
Jug Band Music
Money $C
Nashville Cats $C
Rain On The Roof
She Is Still A Mystery
She's a Lady / Money
Six O'Clock
Summer In The City $C
You Didn't Have to Be So Nice $C

Jim Lowe


Green Door (Original Version) $C

Nick Lowe
From London England. Nick was an independent producer for Stiff Records in the 1970s when "Cruel to Be Kind" was released. He was 68 in 2018 and continues to record and perform. Also see Dave Edmunds and Ian Gomm
Cruel To Be Kind / So It Goes $Z
I Knew the Bride (When She Used to Rock and Roll)
Stick It Where the Sun Don't Shine
Switchboard Susan
L7
Off the Wagon $C
L. T. D.
Back in Love Again (Everytime I Turn Around) $C
Holding On (When Love is Gone)
Love Ballad $C
Never Get Enough of Your Love (PS)
Shine On

Luba (Lubomyra Kowalchyk)
No wonder she changed her name! From Montreal Luba was one of Canada's most popular singers in the 1980s. After retirement Luba returned to record in 2000 and retire (again) in Anguilla. She was 60 in 2018
Everytime I See Your Picture
How Many Rivers to Cross (PS) $C
Innocent (with an Explanation) (PS) $C
Let it Go $C
Secrets & Sins (PS) $C
Storm Before The Calm (PS) $C
Strength in Numbers (PS)
When a Man Loves a Woman (PS) $C
Matt Lucas
I'm Movin' On
Maybelline
Newspaperman Blues / Peeping Tom Blues

Lucifer
Bloodshot Eyes $C
Luke (featuring 2 Live Crew)
Banned in the USA $C


Lulu


I Could Never Miss You (PS)
If I Were You (PS)
I'm a Tiger (Epic) $C
Morning Dew
Oh Me Oh My (I'm a Fool For You Baby) / Hum a Song
Shout (With The Luvers) / I'll Come Running Over $Z
To Sir With Love $C


Bob Luman


I Ain't Built That Way
Let's Think About Living
Let's Think About Living (Epic 10869 Stereo 45) $F
Poor Boy Blues
Proud of You Baby (Epic)
What About the Hurt (Epic)
(Click for larger photo)
Rockabilly EP Features Private Eye, Great Snowman, Why Why Bye Bye, Let's Think About Living (7", 33 RPM, small centre hole) (PS) $D (New lower price)
Victor Lundberg
An Open Letter To A Teenage Son
Luniz
I Got 5 on It $Z
Lydells
Genie Of The Lamp / Wizard Of Love


Arthur Lymon
Love For Sale
Yellow Bird



Frankie Lymon (& the Teenagers)


ABC's of Love / Share
Buzz Buzz Buzz
Goody Goody / Creation Of Love
I Want You To Be My Girl $D
Little Bitty Pretty One / Paper Castles
Miracle In The Rain / Out In the Cold Again
Please Be Mine $F
Out In The Cold Again
Silhouettes / Portable on My Shoulder $Z
Teenage Love / I'm Not A Know It All
Why Do Fools Fall In Love $F


Lewis Lymon & Teenchords
Dance Girl $C
Honey Honey / Please Tell the Angels $C
I Found Out Why (Do Fools Fall in Love) / Tell Me Love $C
I'm So Happy (Tra-la-la-la-la) / Lydia
Too Young / I Found Out Why (Do Fools Fall in Love) $C
I'm Not Too Young To Fall In Love / Falling in Love $C

Barbara Lynn
You'll Lose a Good Thing $Z
Cheryl Lynn
Encore $C
Got To Be Real
Star Love
Gloria Lynn
Don't Take Your Love From Me
I Wish You Love / Try a Little Tenderness
Watermelon Man $C

Loretta Lynn
Coal Miner's Daughter / One Is On the Way $C
One Good Reason (Decca)
Pill
Rated "X" $C
Vera Lynn
Auf Wiederseh'n Sweetheart EP includes 3 more songs (PS) $F


Jeff Lynne
Also see "Electric" Light Orchestra
Doin' That Crazy Thing
Video (PS)

Lynyrd Skynyrd
Call Me the Breeze / Gimme Three Steps $Z
Down South Jukin' $D
Free Bird / Searching $Z
Sweet Home Alabama / Saturday Night Special $Z
What's Your Name / I Know a Little $C

---
45 RPM Pricing
................................................................................................
Regular records

US$ Price
(each)

CDN$ Price
(each)

(No price designation)

$6.95
$7.95
$C

$8.00
$9.00









Collector Records
US$ Price
(each)
CDN$ Price
(each)
$D
$12.00


$F
$18.00


$H
$24.00


$J
$30.00


$K
$42.00


$L
$60.00


$Z
Sold out
Please do not order






Juke Box Title Strips

---
On-Line Complete Alphabetical Catalog
A . B. C. D. E. F. G. H. I. J. K. L. M. N. O. P/Q. R. S. T/U. V. W/X. Y/Z
---
Most recent page review : 2020 03 29
---