Detailed CD Listing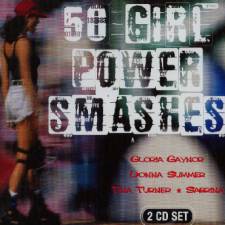 This listing reflects a current inventoried CD title. Every song on every CD we sell is the original recorded version you remember - guaranteed quality and satisfaction.
---

Startel CD- 0364
US$12.95 or CDN$14.95
50 Girl Power Smashes
Due to the size and weight of the CD packaging, this CD counts as 3 CDs shipped

This CD is discontinued and no longer available


Disc 1
1. I Will Survive – Gloria Gaynor
2. High Energy – Evelyn Thomas
3. Feels Like I'm In Love – Kelly Marie
4. I Eat Cannibals – Toto Coelo
5. They Say It's Gonna Rain – Hazell Dean
6. Doctor's Orders – Sabrina
7. Sexual Feeling – Latoya Jackson
8. Na Na Hey Hey Kiss Him Goodbye – Donna Summer
9. Knock On Wood – Amii Stewart
10. I Can't Dance To That Music You're Playin' – Syreeta
11. Ring My Bell – Anita Ward
12. Band Of Gold – Freda Payne
13. Way Down Deep In My Soul – Barbara Pennington
14. So Many Men, So Little Time – Miquel Brown
15. I Wanna Make It On My Own – Evelyn Thomas
16. Don't Get Mad Get Even – Mary Wilson
17. I Am What I Am – Gloria Gaynor
18. All Of Me – Sabrina
19. Back Off Boogaloo – Donna Summer
20. Playboy – Latoya Jackson
21. Hit 'N' Run – Carol Jiani
22. Loving Just For Fun – Kelly Marie
23. Made In Japan – Nancy Nova
24. Midnight At The Oasis – Maria Muldaur
25. Dancing In The Street – Martha Reeves

Disc 2
1. Move Closer – Phyllis Nelson
2. With You I'm Born Again – Syreeta
3. I Will – Ruby Winters
4. Suddenly – Gloria Gaynor
5. We Had It All – Tina Turner
6. A Woman In Love – The Three Degrees
7. Love Makes A Woman – Barbara Acklin
8. My Heart And I – Amii Stewart
9. You And Me – Latoya Jackson
10. You Beat Me To The Punch – Mary Wells
11. Only Love Can Break A Heart – Timi Yuro
12. I Say A Little Prayer – Martha Reeves
13. Boys – Sabrina
14. Just One Look – Doris Troy
15. You'll Lose A Good Thing – Barbara Lynn
16. Gee Whiz – Carla Thomas
17. Baby I'm Yours – Barbara Lewis
18. Emotion – Kim Weston
19. All Alone Am I – Timi Yuro
20. I'm A Woman – Maria Muldaur
21. Help Me Make It Through The Night – Sammi Smith
22. My Guy My Girl – Amii Stewart
23. You're Gonna Need Me – Barbara Lynn
24. One Phone Call – Patti Labelle
25. Loving You Was Easier – Tina Turner
---
Use Your Credit Card



and Order this CD Right Now!

| | |
| --- | --- |
| | Call 1-800-494-6129 to order this CD, or |
| | Click to order this CD using our secure server |
More ordering and shipping options
---