Have some old records put away somewhere in your attic? In your basement? Did you inherit someone's collection? This page provides general information on assessing your records and determining whether you have a real goldmine or just the same old stuff everyone else has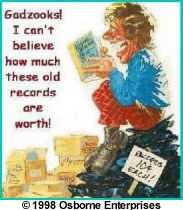 How Much Are Your Old Records Really Worth?
General Information on buying, selling, values, etc.
| | |
| --- | --- |
| | Please, don't phone us to discuss the value of your record collection, unique items you own or how or where to sell your records. All these questions are answered in detail below. If you must contact us, send us E-Mail. We will answer your E-Mail. |
Continental Records only purchases brand new 45 RPM records. If you have a large quantity (2000 or more) of brand new 45s to sell, please contact us for the best price
Continental Records does not buy used 45s or any LPs/12" or 78s. If you have such records to sell please read the information we provide below on selling your collection
Do you have any records sought after by record collectors? 1000s and 1000s of titles made in the past 60 years sell for more than $100 each - the vast majority manufactured in the 1950s through the mid 1960s. A few very rare records (including best-selling artists) regularly sell for more than $10,000 each

Prices detailed on this page

All pricing on this page is for records that are in "like new" condition. LPs and EPs that are "still sealed" (in their original cellophane wrapper) are worth more than the quoted prices

""Used" / "Well played" copies usually sell for 10% of the above values - if you can find a buyer
Condition is paramount
Do you wish to determine the value (or sell) obviously used copies (no sleeves or covers, noisy when played, scratches, marks, writing on label or cover, etc) of common, best-selling phonograph records from any year (1901-1999)? Sorry to tell you this, but almost every best-selling record from the past was pressed in the millions and used copies usually have little or no value
The best value on obviously used records described above is not what money they will fetch but the enjoyment you can still get from them - continuing to play them, enjoying the music and remembering the moments - this is why the records were purchased in the first place (right?)
78s? 45s? LPs? Identify your records before you go further
Understand what you own. It is impossible to determine the value (or sell) your records if you do not even know if you have 78s or 45s or LPs
Don't look for the speed on the record or cover - use the record size and photos below to determine what you have. Sort the three different speeds (sizes) into three different piles. Use the three names (78s, 45s and LPs) for making your lists and any communications you might have about them
Rare and Valuable 78s
Most 78s are 10" in diameter
Many people think that the older the record, the more it is worth - this is rarely true. Generally speaking, almost all popular 78 RPM records manufactured before 1950 have no value. Let's face it, most collectors who remember and purchase records made before 1950 are now 80+ years old. Soon there will be no buyers at all

| | | |
| --- | --- | --- |
| | | (Click on photos for more and larger examples) |
| Recent 78s | Beatle 78s | |
Surprise! The most recent 78s (manufactured in the late 1950s and early 1960s) usually fetch the highest prices. All rock 'n' roll and rhythm & blues 78s currently sell for $10 or more - $20 when in the original manufacturer sleeve.
Other collected 78s include early American Blues and Hillbilly (very early country) records of the 1930s and 1940s.
Rare and Valuable 45s
Most 45s are 7" in diameter
(Click on photos below for more and larger examples)
| | |
| --- | --- |
| | Almost all 45s with the original manufacturer's sleeves made in the 1950s through the mid 1960s are worth $10 or more. 45s with the wrong sleeves are worth much less. If you don't have any paper sleeves on your 45s or 78s - shame on you - toss them out right now |
| | |
| --- | --- |
| | 45s with the original "picture sleeves" are usually worth three or more times the normal value of the 45 with a plain paper sleeve. All rock 'n' roll and rhythm & blues 45s with picture sleeves from the 1950s through the mid 1960s have values that exceed $20.00 per record. Many have values of $100+ |
| | |
| --- | --- |
| | EPs (7 inch 45 RPM records with 4 songs) were sold with a hard cardboard cover and a plastic cellophane wrapper like LPs. Many 45 RPM EPs from the rock and roll era (with original cardboard picture sleeves) have values over $100, a few are worth $1000+ |

Rare and Valuable LPs (33 RPMs)
Most LPs are 12" in diameter
During the 1950s and early 1960s (before the Beatles) teenagers purchased records they heard on the radio in 45 RPM format - they wanted the song they heard on the radio - they were not necessarily fans of the artist. However every record company issued LPs by their recording artists even if they didn't sell well at the time. There are several categories of LPs that are highly valued by collectors
((Click on photos below for more and larger examples)
| | |
| --- | --- |
| | Rhythm & Blues pioneers. When LPs like these were issued in the 1950s the (often small) record companies had poor distribution and the main buyers of R & B records didn't have much money. Some titles were issued with only 1000 copies pressed. Many such LPs now sell at prices exceeding $500 per copy |
| | |
| --- | --- |
| | Rock 'n' roll pioneers. Whether "rockabilly" or "rock 'n' roll" LPs like these that were made in the 1950s are now quite rare and valuable. Many have values that exceed $100. Some sell for $1000 or more. |
| | |
| --- | --- |
| | Teen artists of the 1950s and 1960s. Because such LPs are relatively rare (often less than 10,000 copies sold), they now command big prices. Teen LPs originally manufactured from 1954 to 1966 often sell for $10-$20 or more - and if they are in "true" stereo you can quadruple the price |
| | |
| --- | --- |
| | Everything by the Beatles. The last "original" Beatle LP was sold in 1970 (Let it Be). Every LP sold in every country from 1963 to 1970 is worth more than $15 when complete (record, cover & inner paper sleeve) and in "like new" condition . Many other original Beatle LPs (including foreign copies) have values from $100 to $10,000+ |
| | |
| --- | --- |
| | Everything that is Beatles "related." This would include rarer LPs by the the individual Beatles and various LPs by artists that honour or mention the Beatles. Many such LPs sell for $100 or more. Some have values above $1000 |
| | |
| --- | --- |
| | Other "collected" artists. Common best-selling LPs by collected artists (other than the Beatles) have little value but rarer original LPs manufactured in the 1950s and 1960s can sell for $100 or more. See Fans below for details |
| | |
| --- | --- |
| | Have LPs that don't fit in the above categories? There are very few other collected LPs (some rare jazz, a few rare movie sound tracks). But generally speaking if your LPs are not original "rock 'n' roll" related LPs pressed in the 1950s or 1960s they probably have little or no value - no one collects them - sorry |
Listed below are the 14 most collected artists (and most valuable) records in order in 2011.

1

Beatles

2

Rolling Stones

3

Led Zepplin

4

Sex Pistols

5

David Bowie

6

Jimi Hendrix

7

Bob Dylan

8

Iron Maiden

9

Queen

10

Elvis Presley

11

Joy Division

12

Genesis

13

Depeche Mode

14

Miles Davis
Not on the top of the list, but also sought after by collectors are rarer records by AC-DC, The Beach Boys, The Bee Gees, Michael Jackson, Kiss, Madonna, Prince, Rush, U2, Neil Young and many other artists
Records by the most collected artists can have a very high value if the artist has millions of fans that want to own everything by the artist or group.
For instance, some less common commercially issued Rolling Stones 45 RPM picture sleeves have values that exceed $1000 and many commercially released (but now rare) Beatles (45s, EPs & LPs) records also have values of more than $1000. See Rare and valuable - More Examples below.
For those of you that own old records by artists that used to have millions of fans such as Al Jolson, Eddie Cantor, Ted Lewis, Bing Crosby, Caruso or any other previous to 1950 artist the "window" for high prices has gone with the fans.
Rare and Valuable Stereo Records
Record companies have been recording in stereo since the early 1950s
All 45s manufactured by all labels after 1970 were pressed in stereo. However many labels selectively pressed 45s in stereo between 1957 and 1970. These early stereo 45s (especially 1950s) have values up to 10 times the mono releases

| | | |
| --- | --- | --- |
| | | (Click on photos for larger examples) |
| Early stereo 45 | Early stereo LP | |
Almost all LPs manufactured by all labels after 1970 were pressed in stereo. However many labels selectively pressed LPs in stereo after 1954. Early stereo LPs (especially 1950s) have values up to 4 times the mono releases.
Rare and Valuable Records on YouTube

There are more collectors around the world who pursue "The History of Rock 'n' Roll" than any other category. Because the numbers of buyers (or collectors) determines value it makes rock 'n' roll records expensive - and records before and after the rock 'n' roll era cheap!
Rhythm & Blues, "Doo-Wop" and "Rockabilly" records from 1948 through 1964 traditionally have the the highest value of all collected records
For fun I have included below several YouTube listings. These are video examples of a few of the most valuable artists. Many records by these artists (and 100s of other artists not listed here) have values over $100 and some over $1000. The Five Sharps record sold twice for more than $10,000
(Click below on artist or photo to view video)
Once you view the videos you'll have a pretty good idea of what type of music and records are worth big bucks - they are almost all from the 1950s and not necessarily by the most popular artists of the time period
Rare and Valuable Records - More Examples
(Click below on photos or graphics for more details)
Values of some commercially released (but now rare) Beatles (45s, EPs & LPs) records includes 15 titles worth more
than $1000
| | |
| --- | --- |
| | Detroit and Motown - 100s of records on these labels are valued at more than $100 - and many are worth $1000+ (3 pages) |
| | |
| --- | --- |
| | Values of records by the 1950s R & B group the Flamingos from the Jerry Osborne official price guide (below) includes several records with values of more than $1000 |
| | |
| --- | --- |
| | Values of 28 most sought after records on Wikipedia, the free encyclopedia |
| | |
| --- | --- |
| | Values of one million different records sold on E-Bay - type in your artist - see the value (if more than $20) |
History is important
History does not mean age of the record. Does the record itself have a history? Items with high values are often records that fill spots in a historical era - some examples:
The roots of country music (early 1930s and 1940s country artists - often called "hillbilly."
The history of rock 'n' roll - 1950s Rhythm & Blues or rockabilly,
Girl groups of the 1960s,
Northern Soul - Unique American single records (usually not hits in the USA) that were played by DJs in clubs in Northern England (e.g., Manchester, etc) in the late 1960s and early 1970s.
"Italo" disco. After the disco sound died in the USA it continued in Europe in the 1980s. Italo disco records are distinguished by a strong electronic beat and very weak vocals (if any).
Detroit and Motown (early Berry Gordy productions or other Detroit label releases), See Rare & valuable - More Examples above.
Answer records - even if not popular (I'm the Girl from Wolverton Mountain, the Duchess of Earl, etc.),
The history of electric guitar (early Les Paul), or,
Just to complete a collection on a certain artist such as early Jan and Dean on Arwin label or their later 1970s records on the Ode label or early Aretha Franklin on Columbia label etc.
All the above are just a few examples - there are 100s more!

1st Pressing Original Releases vs.
2nd, 3rd, 4th pressings or promo records or reissues or bootlegs

1st pressing original commercial releases always have the most value. They are commonly known as "originals." These are the records that people purchased when the record was first on the "charts" and played on "Top 40 Radio." Many of the original 45s had "picture sleeves." Original LPs/12"/CDs often had inserts and other features not on later (2nd or other) releases. These are the records collectors want and will pay the most for

| | | |
| --- | --- | --- |
| | | (Click on photos for more and larger examples) |
| Original Pressing | 3rd Pressing | |
2nd (and 3rd and 4th) commercial pressings were made after the records were off the charts and top 40 radio. These records most often have the same label and number but can be identified by dealers and collectors because of differences from the 1st pressings in the cover or colour of the label. These pressings of popular records usually have a lesser value than the 1st pressings
Promotional (Audition) records were free records send to radio stations (and others) to announce a new release (45 or LP) that would be coming soon from the record company. They were identified by the label (often plain white in colour) and were marked "Promotional" or "Audition." Most promo labels also state "Not for Sale." Promo copies of best selling records generally have a slightly lower value than the 1st pressing originals. Occasionally promo copies were pressed for records that were never released commercially. Obviously these records are extremely rare and obtain a very high value for the most sought after artists or music. Almost all valuable "promo" records are "rock 'n' roll" related 45 RPMs released in the 1950s and 1960s. A few promo LPs (by the most collected artists) are also valuable

| | | |
| --- | --- | --- |
| | | (Click on photos for more and larger examples) |
| Promo Pressing | Reissue Pressing | |
"Reissues" of popular records usually have a different label and number than the original release and have no more value than the original purchase price. All Beatles records made after 1971 are reissues. Reissues also include "Greatest Hits" compilations by any artist
"Bootlegs" are not legitimate commercial releases that collectors want and are illegal. It's a fact that all illegal items (not just records) are hard to advertise, buy or sell. Most bootlegs have little value

| | | |
| --- | --- | --- |
| | | (Click on photos for larger examples) |
| Beatle bootleg | Beatle counterfeit | |
Bootlegs come in several categories. LPs/12"/CDs often feature not commercially released (stolen) tracks or recorded live concerts. 45s include re-releases of rare or valuable 45s. Some bootleg 45s are exact copies of rare records with the original label graphics and numbers - these are known in the industry as "counterfeits"
Sorting Your Records for Sale (or value)
Made it this far on this page? Congratulations - there is a lot to read !
Remember, if you have used copies of common, best-selling phonograph records (of any year - 1901-1999) their value will always be very low - often less than $1.00 each. Your records may not be worth the all the work or time to list them, sell them, package them or ship them.
Sort your records and decide what records you own have some potential value using the list below.
Which records do you own are in new or nearly new condition?
Click here for details on what records always have value (and should be saved) - and which records usually have no value (and can be tossed out).
"Values" vs "Selling Prices"
Book value or appraised price of any item whether its a car, a house, a diamond ring, an old Barbie doll, antique tin soldiers or records does not necessarily always mean the selling price you are going to get. Its a guide for an approximate value only.
In most cases book value is the highest price a dealer can possibly sell the item for. In order for you to get the same selling price you must find a buyer willing to pay the same price - usually a collector.
Dealer "Buying Price"
If you are planning to sell your items to a dealer - generally, the higher the book value, the higher percent a dealer will usually pay for your items. On very high priced items (>$1000) you can often get 50% or more. The percent continually decreases as the "book" price gets lower. This is the same with every type of collectible, not just records.
On most (non rare) popular records the dealer buying price is often as low as 5% of the "book" value. This is because the dealer probably has copies of all of your records already.
If you want to get the absolute best price from a dealer, ensure you contact the dealers that specialize exactly in the the type(s) of records you are selling. There are mail-order specialists for every type of format (45s, 78s, LPs, Edison cylinders, etc.) and specialists for every type of category (rock 'n' roll, reggae, soundtracks, original cast, jazz, etc.). The specialists know the customers that will pay the most for what you want to sell them and as a result can offer you the best price. See "Places to Sell Your Records" below for more details.
E-Bay



If you sell on E-Bay, some records you list will be bid upon by E-Bay users -
many of the others (the most common titles) will not be bid on at all!
Goldmine Magazine



Another method is selling them (all at once) to one of the used record dealers listed in Goldmine Magazine. Their web site is http://www.goldminemag.com It is suggested you obtain several issues of their magazine as the magazine lists hundreds of used record dealers that are not listed on the Goldmine web site. Some of the biggest and oldest used record dealers are not internet "savvy" and have no web site or E-Mail at all!
Your local used record collector store


....


(Click for larger photos)
Not many stores are left in 2011. You might locate local stores using the Yellow Pages. Most remaining collector stores buy and sell CDs/DVDs - not records. Don't expect them to show any interest in a small bunch of used popular records. However if you have a larger "collection" don't phone - drop in and talk with them. No need to bring the records. Even if they have no interest they will probably give you good advice on selling your collection to another local dealer. For a list of used records stores in your state click here.
Your local "Record show & convention"

(Click on photos for more and larger examples)
Most major cites have one or more "record shows" every year. The "Toronto Musical Collectables Record & CD Sale" has two shows yearly. They feature more than 100 "dealers" - with the majority selling used vinyl. Other city shows are similar. Don't rent a table or bring your records - just pay for admission. At the show you should be able to talk with many local "dealers" who could have an interest in purchasing your complete collection.
Record & CD price guides by Jerry Osborne
| | | | | |
| --- | --- | --- | --- | --- |
| Elvis Presley | The Beatles | Soundtracks & Original Cast | Compilation LPs | Rockin' Records Annual |
An avid collector of records for over 48 years, Jerry Osborne has also worked full-time as an author of record price guides and reference books since 1975.Among the books he publishes are pricing guides to Elvis, the Beatles, Movie Soundtracks & Original Cast albums, compilation LPs & CDs and the largest one - The "Rockin' Records" Official Price Guide (published yearly).
See Rare & Valuable above for a sample listing of the group the Flamingos.
The cornerstone guide of any record appraiser's library, Jerry Osborne's "Rockin' Records" annual is the world's most popular record price guide. The recordings of approximately 50,000 different artists are included. The current edition has everything you need to know to price practically every disc you own: singles (33, 45, & 78 RPMs), albums (10 inch & 12 inch), picture sleeves, and more. Loaded with plenty of great photos. Covers pop, rock, country, jazz, blues, and a little of everything else — from 1902 to present; from the very popular to the very, very obscure. The 2011 edition is 1168 pages with pricing on over one MILLION records! If you're looking for individual pricing on records or CDs? This book will provide all the answers.
Click Here For Jerry Osborne's Site
Neil Patte, 2011
---
Most recent web page review : 2012 01 19
---

New visitors since 2011 01 28
About 1000 per day!

---